So I just read Aimee Byrd's latest post, "
Confessional Communities
," and felt myself somewhat disturbed.
The group therapy she advocates here, reviewing a book by a Dr. Curt Thompson, reminds me a lot of a currently trendy, Silicon Valley practice called "
Circling
" (see below illustrations for 6 goals of circling).
"Many of our relationships—not just psychotherapeutic ones—have common blind spots, power gradients, and limit to how helpful one voice (as compared to many) can be in helping us overcome shame. The confessional community gives us a place to engage in real time and space those phenomena in order to achieve greater states of integration, and therefore be more perfect, more whole, even as our Father in heaven is perfectly whole" (Thompson, quoted by Byrd).
Am I overreacting here to what is actually a healthy, Christian communal therapy practice?
This is a genuine question. Counseling is not my area of expertise, and I'm a loner by nature.
*Below is from a "circling" website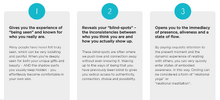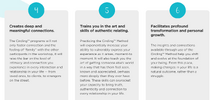 (from
https://circlinginstitute.com/what-is-circling-method/
)
Last edited: