Puritanboard Commissioner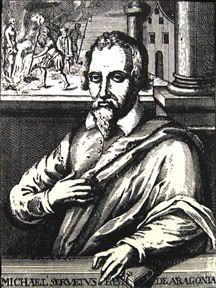 Today marks the anniversary of the death of Michael Servetus.
Michael Servetus (also Miguel Servet or Miguel Serveto; 29 September 1511 – 27 October 1553) was a Spanish (Aragonese) theologian, physician, cartographer, and humanist. He was the first European to describe the function of pulmonary circulation. His interests included many sciences: astronomy and meteorology; geography, jurisprudence, study of the Bible, mathematics, anatomy, and medicine. He is renowned in the history of several of these fields, particularly medicine and theology. He participated in the Protestant Reformation, and later developed a nontrinitarian Christology. Condemned by Catholics and Protestants alike, he was arrested in Geneva and burnt at the stake as a heretic by order of the Protestant Geneva governing council.
More pointedly, his death has become THE blot on the reputation of John Calvin who was falsely blamed for it as the "tyrant of Geneva." One need take into account several factors:
* The sensibilities of the 16th century were quite different from those prevalent today. Atttacks on the trinity were taken rather seriously back then as endangering the public order, tempting weak persons into soul destroying damnable heresy, and a challenge to the political structures of society.
* Servetus was condemned to death by the Roman Catholics prior to his ill-fated visit to Geneva.
* Calvin was an "expert witness" in the trial, not the one entrusted with the authority of the sword. He was not even granted bourgois status in Geneva until 1559 (6 years after Servetus' death) and his popularity was at a particularly low ebb in 1553 when Servetus was put on trial.
* The Council sought the opinion of surrounding cantons, receiving the unanimous recommendation to execute Servetus.
* Everyone on all sides in Calvin's day agreed with the execution.
* During an era when hundreds of people were executed in Germany and religious atrocities were not uncommon (cf. Peasants' War in 1525 and the Münster Rebellion of January 1534), Calvin's quarter century combined tenure in Geneva was marked by all of ONE religious execution . . . Servetus (banishment was more common, I count the case of Jacques Gruet as civil, not religious).
* Calvin and the Genevan ministers petitioned the court to mitigate the sentence of Servetus by a more humane method of execution than burning. They were denied.
* Calvin made several efforts to persuade Servetus to repent.
Nevertheless, since the death of Servetus on October 27, 1553, Calvin has been tarred by historians and in the popular imagination as a cruel and bloodthirsty tyrant. NOT true. Considering the weight of historical opprobrium piled on Calvin since then in the popular mind, one might argue about who really "got burned" by the death of Servetus.
Last edited: